By: Steve Emery


For the MobileDeaf project, each team member will direct an ethnographic film related to our individual projects. The three team members who attended the course – Steve, Erin and Amandine – are new to filmmaking, thus we enrolled on the Filmmaking 4 Fieldwork (F4F) course in Manchester (3-13 July 2017). When we make our films, we will work with deaf filmmakers who will shoot and edit the films, but since we will be the directors of the films, we want to have some hands-on knowledge of the process of filmmaking. We were not attending solely to learn the technicality of film production but wanted to learn more about filmmaking that takes an ethnographical, or anthropological, approach. One key reason for choosing F4F was its approach – ethnographic film – and the fact it was run by academics and designed for them. As part of the course we worked on three assignments (short films).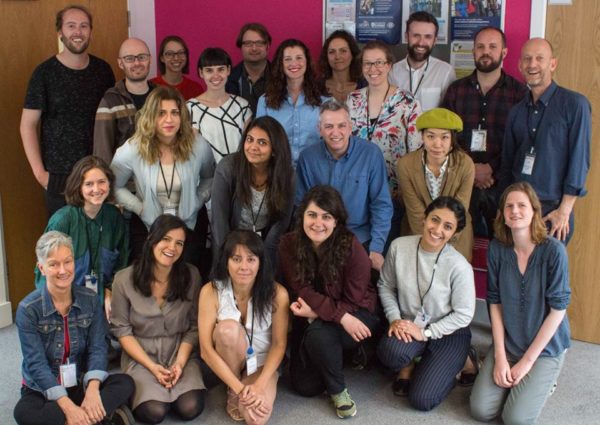 There were 18 course members from all over the world in total, and the make-up of the course had a strong international strand, which resonates with us as MobileDeaf project researchers. Many people would identify with the mobility, or lack of it, of peoples' around the world, and their lived lives and experiences. One student had travelled from Japan to be there, and others were from Denmark and Germany. Course films we watched and discussed were from Peru, Sierra Leone, Kurdistan and, of course, Manchester. Most of the course films were not subtitled, and were thus interpreted by the sign language interpreters. The lessons were interpreted by a rotation of eight BSL-English interpreters. Learning through sign language interpreters proved to be a challenge, although not entirely impossible.
Technical process
We learnt about the raw labour that goes into ensuring the film production comes together via a multitude of technical divisions. We learnt that when we are filming, for example, we need to think about editing, ensuring sufficient footage of the location is available because there is no going back to the exact same scene. We worked with a Canon Camcorder XF200 and used Adobe Premiere Pro CC software and learnt how to position and use the equipment and the various aspects of editing.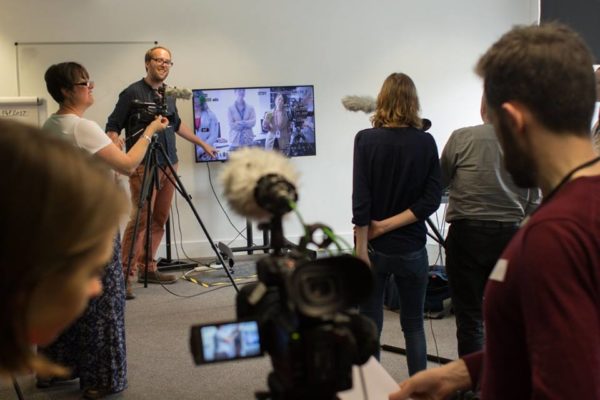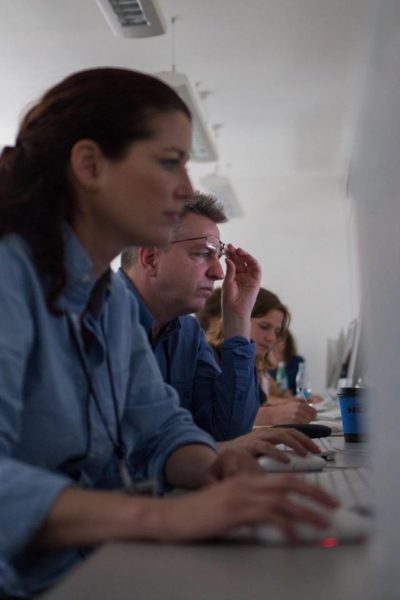 At heart, F4F works with a world where speech and sound play as central a role as visual. The F4F course director, Andy Lawrence, stressed that sound recording is 'undervalued', and central to the course is 'audio-visual' research. It was therefore a big challenge to find ourselves, as "Sign Language Peoples" (or SLPs) whose language and culture is lived visually, in the midst of a course which focused attention on both visual and audio production. At one point (during the first week) on their Facebook page the F4F tutors referred to us as people with a sensory loss. Yet, after the screening of our third production (see below), at the end of the course, the tutor was referring to our experiences as 'not disabled, but different'.
We anticipated our course films recording 'natural sound', but sound level recording itself varies so how do we ensure the sound is harmonious to a hearing audience, and not uncomfortable and jarring (e.g. edits stop half way through a voice, sudden unusual sound backgrounds)? We will not experience the sounds around us and the world in the way hearing people do, however open we are to learn to understand these frames of reference. We did try to work through the sound process as far as was possible, with Amandine editing the film to include sounds and try to ensure both speech and sign language was incorporated into the final film. In addition, many SLP's do hear sounds even if they can't always identify or distinguish them. One of the course tutors went through our final film and tweaked the movie so the sound production was 'hearing-friendly'.
Film4Fieldwork theory
The technical detail could not be divorced from the theory and process of ethnographic documentary. For example, when thinking about our story, we need to consider what is beginning, middle and end. Then think how we can show the story visually; for example, use camera distances to locate the story. If filming a person who goes for a haircut and the process that's involved, one could start with a wide frame (the shop and the street it is in), follow up with medium shots (inside the shop from various angle and filming various people) and finally home in closely on the details involved in haircutting (a close up of scissors cutting hair or cash going into the till).
We were encouraged to think of three points of a triangle when making a film, to ensure the story covers emotion, strategy and impact.
Emotion: Our filming is focused on people, their stories of migration, refuge and mobility, and we anticipate at times we could encounter high levels of emotion. These carry ethical issues that were also discussed as part of the coursework.
Strategy: The tutors preferred to think of 'interviews' as testimony, to encourage the filmmaker to let the process of the film develop and the story tell itself rather than to try to impose the idea of the director or producer. Using testimony is just one strategy, another might be to show the movement of the body to tell its own story. This had us thinking about Annelies' film Ishaare: Gestures and Signs in Mumbai.
Impact: The final point, impact, is tied into this process of emotion and strategy.
We were able to test out some of the course theory when we created our three short films. The first was entitled 'men at work', mainly to get students used to using the camera, shooting from different angles and frames, and put together a visual production. The second experimental film was on 'testimony', which we shot in the cafe next door.
The process of documentary filmmaking: our journey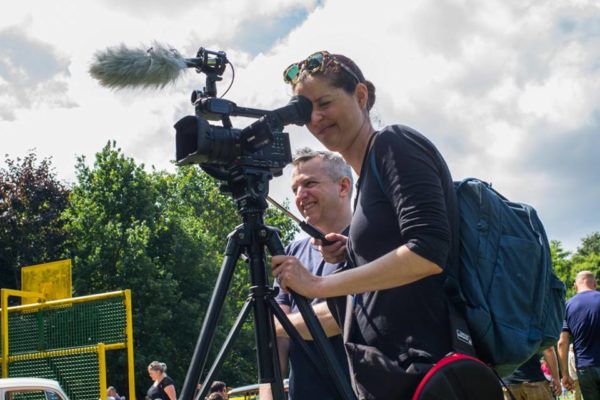 The three assignments gave us a golden opportunity to work together as a (deaf) team, very early on in the MobileDeaf project. If there had been only one deaf person on the course, for example, we imagine they would have been swallowed up in the group.
For our third and final practical task, there were six themes to choose from. We chose the Didsbury Car Show event. When we arrived, we were unsure what our story would be, but Erin came up with the idea of focusing on interviewing women, and because Amandine and Steve were excited by VW campers, the outline of a story found itself. We all assumed beforehand that an event about cars would be male dominated, so we felt this would make an interesting story. Each of us took turns in using the camera throughout the day and we came away with 3-4 hours of footage.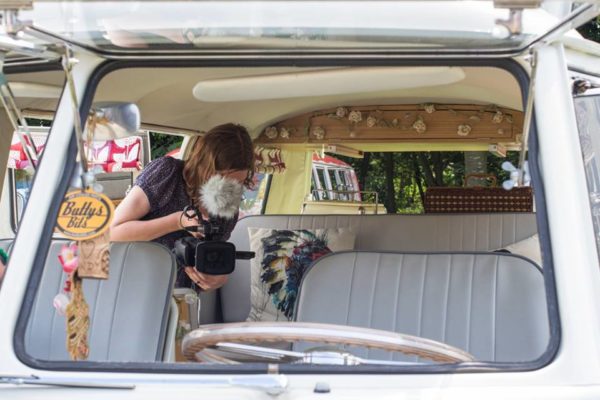 Almost everybody we asked at the car show was happy to be filmed. Yet, during our exercises, we were constantly thinking about the ethics of our research. This thinking was at two levels. The first is consent and agreement to be filmed, and the second is the ethics of filming deaf people who could feel vulnerable being on camera. The question of ethics will not be the same for all those we film as our participants will have various backgrounds, from deaf professionals used to being on camera and with more freedom of mobility than deaf people seeking to remain in a country and at threat of being deported, or refugees who want to settle and make a new life. Consent will not start and begin with agreement before filming but necessary all the way through the process, involving our key participants in the first cut to the final cut and beyond when we show and discuss our film.
We had to work out how we would work with the sign language interpreter and experimented as we went along. We tried only framing the person we were interviewing, then the person we interviewed with the interpreter and finally all three: interviewer, interviewee and interpreter. We ended up agreeing that at the least the interpreter should always be included in the frame next to the hearing person – but we had already shot the footage interviewing one woman without the interpreter and wanted to include her in our film. We have posted the film onto the website. Please be aware the film is experimental and was created for the hearing audience in our course. It was not intended for wider viewing, but we are sharing it because we welcome viewers' input and feedback.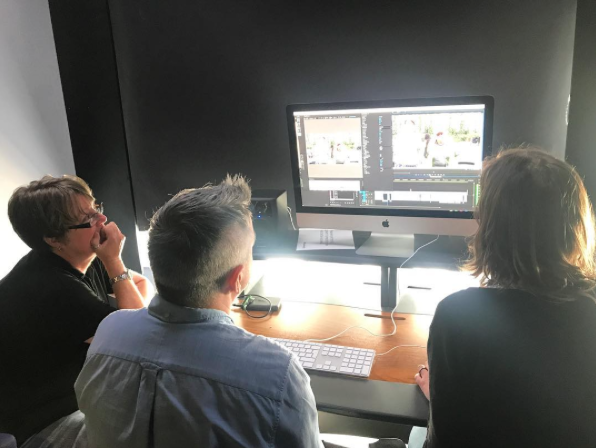 We learned how to add text to a film at the very last editing class session, there were no lessons on subtitling. We were in a rush against the clock to get the subtitles in our film done and had to prioritise what we would subtitle because the tutor gave us a strict 3pm deadline. Working with the sign language interpreter, we just about squeezed in the subtitles for the spoken parts of the film. With more time, we would have added subtitles to the signed parts of the film too.
Editing as a team proved the most challenging process of all. Sometimes tensions arose, particularly with the division of time spent editing, and how the film would be edited, what it would include and exclude. Frustrating though this was, we can look back on it as part of the filmmaking process. Different people have different ideas and varying roles – whether they direct, produce or edit – and we anticipate these experiences will be highly valuable when we work on our individual MobileDeaf filming where we will be taking the lead.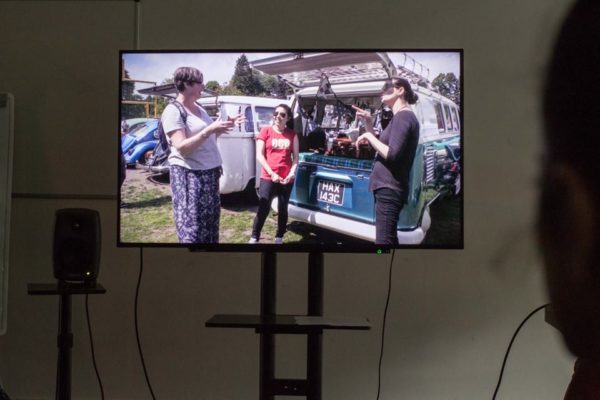 Summary
In summary, we attended a highly eventful and intense two-week course. We come away agreeing it had been a valuable learning process overall. We have questions as to whether we, as deaf participants, were able to get the maximum from the course. This relates not only to the heavily detailed and technical focus on sound production but also other areas such as learning through sign language interpreters. We also would have liked to see more attention to subtitling (by showing subtitled films in the course, and by teaching how to subtitle).
There is a vibrant and expanding deaf filmmaking community across the UK, and more deaf academics are obtaining PhD's in the social sciences using ethnographical research methods. We would support attempts to develop a filmmaking course adjusted to accommodate deaf people in tutoring roles (and we very much look forward to deaf filmmaker Jorn Rijckaert's visit to MobileDeaf on 17-18 August!), but nevertheless, having access to the experience of the F4F tutors was extremely valuable. We hope our learning will have impacts beyond Manchester and MobileDeaf.