By: Steve Emery, 20 October 2018
Every year in October the UK hosts Black History Month (BHM) celebrations. They started in 1987 in the UK by Ghanaian-born Akyaaba Addai Sebo, a special projects officer at the Greater London Council after a visit to the USA. [Fun fact, in 1987 I was working at GLC as a printer!] Black History Month originates in the USA, having been set up by Carter G. Woodson in 1926, who wanted to challenge perceptions that Black people have no history. There are numerous events being held all over the UK in October, but two, in particular, is the launch of the Black Cultural Activism Map, a collaboration with the Stuart Hall Foundation (Professor Hall was a renown Jamaican-British Academic), and a BSL Zone Close Up interview with Kevin Buckle a leading activist and historian of Britain's Deaf Black community.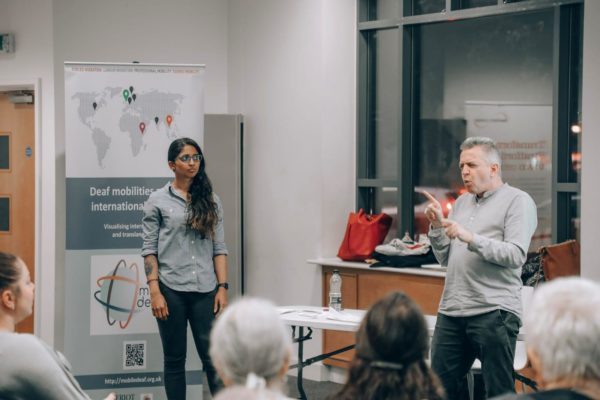 This year Newham Deaf Forum set up an event on Friday, October 12th to celebrate BHM. MobileDeaf were invited to give a brief presentation about our London Labour deaf migration project, and Sanchu and I were privileged to have been provided with this opportunity. It was also a chance for us to find out about how the month is celebrated by Deaf Black and Asian people in London.
The event was not specifically focussed on deaf migration, but as is quite common, we noticed many deaf migrants in the audience enjoying the event. It is a trend to see deaf migrants from all ethnic backgrounds, including from Eastern Europe, at events held by the deaf BAME community groups. Our research has found that they are often 'safe spaces' where all people can participate and enjoy the celebration of culture without having to experience stereotypical comments in a negative fashion.
Sanchu and I, along with Agnes Dyab, the new Chair of the British Deaf Association, gave brief outlines of the work we do, with reference to projects with deaf migrants and BAME deaf people. However, the main event was a celebration, with speeches given by deaf Black and Asian people, including poetry, and two superb performances from Kevin SignKid Walker and Mohammed. They gave powerful and moving signed songs, a mix of celebration and emotion, and at one point the audience joined in. Refreshments were served and there was a big cake at the end.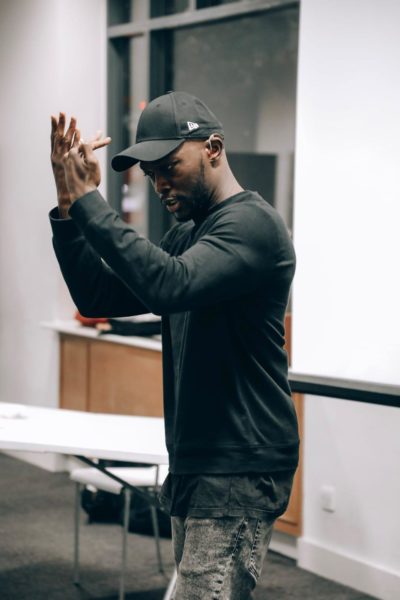 The event was held at Stratford Library in East London and is part of numerous events across the UK to celebrate Black History Month. There was some debate before the month began, with some local councils in London rebranding it as 'Diversity' Month, which has been fiercely resisted. As Dawn Butler MP, stated in a recent article: "Windrush has highlighted just why Black History Month 2018 is so important. It is important that it remains focused on the contribution of African-Caribbean people. It makes a huge difference to hear black history spoken about positively. But it's also important that people are reminded of black history."
We are indebted to Sarla Meisuria for inviting us to present and giving us the opportunity to announce our migration film club event on Tuesday 30th October. Also, to Jumoke Ogunbode for helping create and publicise it and for the photos she provided here, and Newham Deaf Forum for running this hugely successful event. We hope this will be an annual occurrence as it was Deaf Black History celebration at its finest.