By: Sanchayeeta Iyer, 5 June 2020
What it is like to be a deaf migrant in London, emigrating to a new city in search for a better opportunity and quality of life? Or to start a new chapter in your life? Or being involuntarily brought into the city as a young person or a refugee? That is what myself and filmmaker, Jorn Rijckaert (of Visual Box), had set out to find out from a few deaf migrants of diverse backgrounds who had moved from countries in Europe, Africa, Asia and South America and
were willing to share stories about their experience of emigrating and living in the city for our ethnographic documentary project. From the interviews we have gathered brief insights into some deaf migrants' lives – reasons behind their emigration, experiences of their journey to London, their first encounter in the city, how they got around and adapted themselves to new ways of life in London and found places and communities where they found a sense of belonging. At present, unfortunately, we have had to put the filming project on hold due to the COVID 19 pandemic, however, we are hopeful of restarting if the situation improves.
Deaf migrants in London have varied aspirations. Some of our interviewees migrated to seek a new place for a temporary residence before moving on to somewhere new or returning back home, some sought a new permanent residence, and some migrated for seasonal work, moved to join family or recreational activities. The deaf migrants I interviewed have emigrated to the city for a number of reasons such as – to access better quality of education (that meets deaf people's needs), to further their education with financial support (in term of funds for admission fees, sign language and resources support), to acquire English language skills, to gain employment, to start new married life and to be independent from their family. For deaf people accessibility to all the aspects of opportunities such as education and employment, is vital for the enhancement of their quality of life and prosperity.
Adapting to new languages/learning new languages
London is a diverse city with a rich number of ethnic communities. British ethnic deaf people and migrants are among these communities. There are diverse languages being spoken in the city including sign languages. English is seen as lingua franca for some of these migrants. Some told us of the advantage of knowing basic English skills before entering the country (albeit having varied degrees of proficiency). To be able to lipread English words enables the deaf migrants to have basic communication which helps them to get around and about and to be able to mouth English words accompanied with BSL signs. Acquiring English language skills is seen as desired a building block, to enhance their employment opportunities and educational opportunities for these migrants as well as aid them with learning BSL. BSL and English courses are offered to deaf migrants at certain colleges although these classes offer limited places. Deaf social events are places where they find opportunities to learn these new languages through interaction with BSL users as well as for making new friends and accessing network supports.
Deaf space: Shakespeare's Head pub in Holborn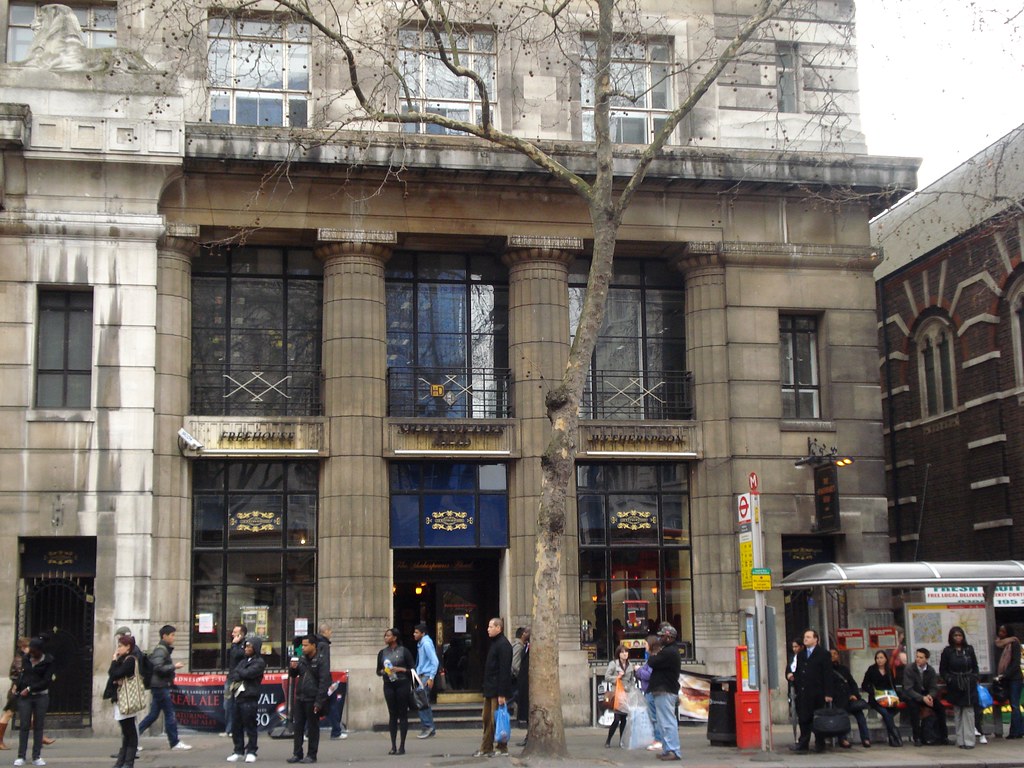 One evening filmmaker Jorn and I decided to film deaf people interacting in a pub in central London where a rich mixture of deaf people meet monthly for social gatherings. 'International deaf people' are normally found among these crowds. The pub is sited near the City Lit college which is popular among deaf migrants and British deaf people as it offers courses for deaf people with sign language accessibility and affordable/concession fee (see this earlier blog for more details) hence, the pub is a suitable location for the meeting (and also drinks are sold at affordable prices compared to other pubs/bars in London!). Upon arrival at the pub, you could see the deaf space being spread out within a hearing/private/public space and moving arms and hands of diverse deaf people signing under one roof. It is this place where most of our participants hung out. There were groups within the group of deaf people – some people were moving in and out of different groups to say hello to their friends/acquaintances, some people stayed with the same group the whole evening. Migrants that we observed gravitated to a group with similar to background similar to theirs. International deaf people tend to use International Sign and their national sign language with the people who know the language. For example, one group of deaf people from Nepal were switching repeatedly between BSL and Nepalese Sign Language as some members of the group were not familiar with BSL. There were exchanging stories about living in London, people/places they knew back home and their plans for the future. This regular social gathering is one of the rich deaf spaces where one could make new friends, could sign, find a sense of belonging (with and within community/ties), and seek signposts to certain information/advice and resources. This space is one key place I plan to return to, for further observations for my fieldwork.
Quality of life as a deaf person
The quality of life for deaf migrants in the city is often relatively better than in the places where they came from. Growing up and living in an environment where there were negative societal attitudes toward deaf people and structural/institutional constraints being placed upon deaf people's life chances and opportunities, has led a deaf woman from Czech Republic to make a strategic decision to pass as a hearing person in order to gain employment where she could access the opportunities to learn English and the new experience of living in a new country. She told me stories of working with hearing families in the UK as an au pair and pretending to be hearing. After learning that the attitudes and life opportunities for deaf people in England are better compared to her home country at the time, she stopped concealing her deafness and informed her new employer that she is deaf. This reveal allowed her situation to become more manageable for her (such as being able to do her job effectively without being burdened with same level of audio responsibility as hearing people such dealing with phone calls and being able to hear what one is saying without seeing their mouths).
Identity and belonging
Narratives about discovering and/re-evaluating their deaf identity were shared by a few of our participants. Independence from family and society back home gave them some space for exploring their sense of self. One interviewee from Czech Republic and the other interviewee from Italy could speak well (both in their own language and English) and were confident in interacting with hearing people, but they both struggled while communicating, especially with those hearing people who use accented English. This created difficulties and led these interviewees either to quit their job or to feel isolated. When they were exposed to British Sign Language on social media, TV or met a deaf person in the city, they felt the desire to seek out the deaf community in London and learn the language. This desire has drawn them to become actively involved with the British deaf community through participation in deaf spaces (social and employment) in London, the city where they gained a strong deaf identity and sense of belonging. However, this participation is not without problems. Often people from ethnic minorities are confronted with racism and negative attitudes, including deaf migrants in London who sometimes felt excluded from certain types of people and they had to move on to people who made them feel more at home. It is not easy to identify when one experienced discrimination due to deaf migrants' multiple interconnected identities. One Czech deaf woman recounted her encounter with a British deaf person who attempted to make her feel like she does not belong to the community due to her BSL signing style being seen as foreign and her ability in speaking well which is seen as not being 'a proper deaf person'. Experiences such as this can make one feel they are being excluded and not belonging to British deaf community, however, due to the participant's resilience she was not put off by the experience and she continues being actively involving in the community.
New life in the city as a wife
The internet plays a key role in searching for potential partner for marriage from the both sides of the globe. Varieties of networks connections in the UK and India have brought together these husbands and wives. Two Indian interviewees started a new chapter in their lives as wives in the new city, living with their new partners (a British citizen) in their parents' home. The affectional dimension of being separated from their own family and friends, leaving a well-established career and rebuilding a new life in the new city with only husband as a familiar connection is an important element in their narratives. These are the new challenges they are currently facing and navigating through. They are active in rebuilding a new career path by participating in courses to acquire essential skills and retraining (as their core qualifications are not recognised in this country). Like other deaf migrants we have met, they are hard workers and have the desire to make something out of their lives with their husbands' support. They maintain their connection to families and friends across the globe via social media, and they attended deaf social events such as WFD Congress, Deaf Arabian night, with their husbands. This goes to prove that the life of migrants is not strictly bound by a local place but are interconnected by multiple places, beyond London and England.
In a nutshell, deaf migrants participating in hearing and deaf societies by negotiating aspects of their lifestyle, belief, language, bodily conduction, identity and the ways they lead their lives. The data presented in this blog is based on the interviews for the ethnographic film, some of which functioned as a pilot study for my PhD research. In the next months, I will focus on researching experiences of South Asian deaf women who moved to London.