By: Steve Emery
(The above zoomable map is the copyright of geographer Oliver O'Brien and James Cheshire of University College London – it maps where ethnic groups settle in London street by street, with thanks to Feargus O'Sullivan at Citylab)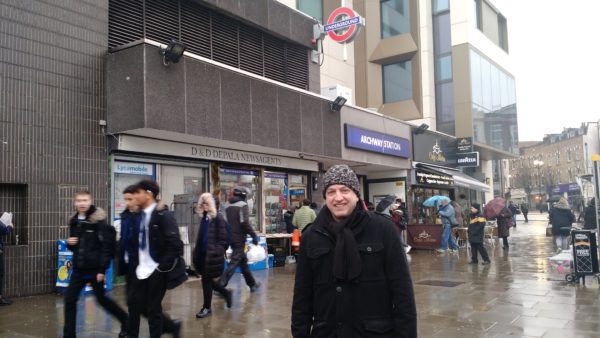 I began my fieldwork research in London at the end of February 2018. I have lived in the area since summer 2015 when I moved here to work for Citizens Advice. That post finished in April 2017 and I took up my position with MobileDeaf. From May 2017 to February 2018 I was travelling to Edinburgh, meeting with the team and getting prepared for our fieldwork.
Now I'm carrying out research in the city where I live. I'm based at Archway (see left), which is in the North London Borough of Islington. One fun fact: my local Member of Parliament is Jeremy Corbyn, the current leader of the opposition Labour Party. From my home, I travel across the city using a Freedom Pass, which I'm entitled to as a London deaf resident. It gives me the freedom to travel around the city by bus, tube, overground or rail.
Since beginning the fieldwork, I've met several people who have advised me where I can meet deaf migrants: Sarla and Rinkoo have been valuable contacts. In addition, there is a Facebook group, Deaf Socials UK, that is updated every week, listing events where deaf people meet. At this very early stage of the research, the aim is to attend as many deaf spaces and places as possible. So far, I have met some deaf migrants but the key process is that I am getting an idea of where deaf people go to meet and socialise in London.
All the deaf socials I've attended so far have been small to medium size– between 18 to 30 people. They have all been diverse in their composition, with a mix of men and women and people of all ages and ethnic backgrounds attending, although most have been in the 'older' age range 40+. There has been a minority of hearing people present too, some there to improve their sign language skills. I have been warmly welcomed at the majority of events, communicating in BSL, getting to know about each club or event and learning about other events taking place elsewhere that are not advertised.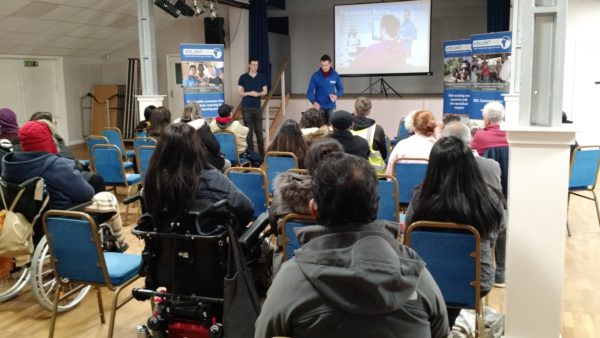 So far, there are no noticeable or identifiable places or spaces or organisations that specifically cater for deaf migrants in London, although several do offer support and workshops. City Lit College, for example, advertises a course for deaf people newly arrived from abroad – but I understand this is under threat of discontinuing. I met with a representative, Rebecca, from the organization Deafplus, an independent Information, Advice and Advocacy service. They work in partnership with an organization called HEAR (Humanity, Equality, Rights) and also REAP (Refugees in Effective and Active Partnership). I had originally been given their contact details by Zoë, who has done some voluntary work supporting deaf refugees in the past. These organisations are NGO's who offer services across the city and have undertaken work to support disabled refugees, including deaf migrants. For example, HEAR recently held a workshop on the rights and entitlements of deaf asylum seekers. I was invited to attend a strategic meeting of HEAR but on that day, I was out of the city.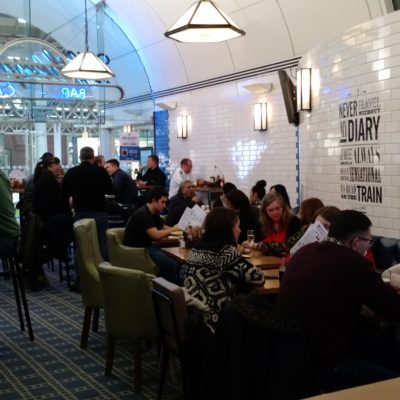 As I've stated, these are early days and there are far more places to visit and people to meet. I've started to put together a map pinpointing all the various places and spaces I visit. Most of the time my visits have happened in the weekday evenings and weekends. For example, I attended an event put on by Harrow and Brent United Deaf club, which was a presentation given by 'Voluntears' (see picture above), and also a small evening gathering at Wetherspoon's pub in Victoria (see picture left). I've also attended Enfield, Redbridge, Beckton and Clapham Deaf clubs, as well as the 888 Club at Stratford Picturehouse, where I watched the Oscar wining film: 'Three Billboards Outside Ebbing, Missouri'.
Finally, there is a factor common to some of the Deaf clubs I've visited so far: some of these spaces and communities are under constant threat from funding cuts. They are kept going by dedicated volunteers who raise funds to enable local deaf people to run activities, so they can get together and socialise in a safe space. As I visit more Deaf clubs, events and spaces and meet deaf migrants I will keep the MobileDeaf blog updated.
The map of places I have visited can be accessed here.