By: Erin Moriarty
20 March 2020
BALI, INDONESIA– From the vantage point of a drone, as seen in some videos circulating on social media, Bengkala appears to be a typical rural village in Indonesia. Faded reddish corrugated metal and orange tiled roofs emerge from a wash of vivid green, and in the distance, mountains loom, shrouded in clouds. At first impression, Bengkala seems unremarkable; however, it has gone "viral" on social media, attracting bloggers, television crews, and tourists.
Bengkala is a village in Bali, Indonesia with a high degree of hereditary deafness and a shared sign language, Kata Kolok, used by both deaf and hearing villagers. Kata Kolok is distinct from and historically unrelated to the sign language used in other parts of Bali (de Vos 2012). Kata Kolok exhibits different structural characteristics from the national Indonesian sign language (BISINDO). There are an estimated 44 to 46 deaf individuals in Bengkala who use Kata Kolok in addition to approximately 1,200 hearing signers with varying degrees of fluency (de Vos 2012); in other words, not all hearing people are equally fluent in the village sign language and some hearing people only know basic signs.
Deaf Utopias in Deaf Tourist Imaginaries
Bengkala is an increasingly popular tourist attraction, drawing a high volume of tourists, both hearing and deaf, domestic and foreign. Tourists from Australia, Europe, and the United States, go to Bengkala to interact with deaf villagers at their homes. In this blog, I consider some of the ways tourism is experienced by tourists and villagers.
I have included a clip from my forthcoming ethnographic film about deaf tourism in Bali; it follows a group of deaf tourists from the Netherlands. They visited Bengkala as a part of a tour of north Bali with Wahyu, a deaf Indonesian who has worked as a guide for deaf tourists in Bali for over a decade. Through this clip, you will gain a glimpse of the experience of visiting a deaf village and how Bengkala (and possibly other deaf villages in the world) may not quite be the 'deaf utopia' that many deaf tourists expect to see.
People live in a world of imagination, where people create and recreate themselves and others in stories and images, which is often the motivation for travel (Salazar 2010). Much like Bali itself has been depicted in tourist literature as an unspoiled tropical paradise, Bengkala, like other shared signing communities, has been romanticized in the deaf tourist imaginary as a place where deaf people are equal to hearing people. Shared signing communities are generally believed to have positive or neutral attitudes about deaf people and sign languages (Marsaja 2008; Kusters 2009).
Small-scale communities with high degrees of hereditary deafness and a shared sign language are thought of as deaf utopias because the ability to interact with people in everyday contexts, such as on the street, in the store, and/or the fields is taken for granted (Breivik 2005). "Deaf utopias" hold special significance for many deaf people because they are imagined to be a site where many deaf people congregate, and sign language use is prevalent and unmarked. Deaf utopias are also believed be fully accessible in terms of life opportunities, experiences, and language ecology.
An isolated Deaf village? Not quite.
Bengkala, more familiarly known as Desa Kolok, (deaf village in Balinese) is located in north Bali, near Singaraja. It is a three to four-hour drive from Ngurah Rai, the airport in the south where most tourists arrive into Bali. To drive along this route is a heart-stopping journey, as enormous coaches carrying domestic tourists from the nearby island of Java regularly barrel around the sharp curves. Several sections of this road do not have a guardrail and there are precipitous drops over the side.
Tourists from the United States and Europe who have visited Bengkala described it on social media and in interviews as isolated and remote, which is somewhat inaccurate. Bengkala is far from where most of Bali's tourism is concentrated in the south but it is easily accessible by car and it is located just off of one of the main north-south routes running through Bali.
In addition to the overemphasis on isolation by tourists and the media, some researchers have also described Bengkala as geographically and socially isolated to explain the emergence of a local sign language (Marsaja 2008); however, Bengkala is connected to neighboring villages and towns through kinship links (Branson et al. 1999). There are several villages in the region with deaf people living there who use a similar sign language to sign language that is used in Bengkala itself (Branson et al. 1999).
Like other rural communities with a shared sign language, Bengkala's isolation is often overemphasized (cf. Kusters 2014). Some of the signers in Bengkala know some signs from other sign languages in addition to Kata Kolok, for example, Indonesian sign language, presumably because since 2000, some of them attended a boarding school for deaf students in Jimbaran, in south Bali (Alesevich 2015), as well as the deaf school in Singaraja, the city closest to Bengkala (Kortschak 2010). During my fieldwork in the village, it became evident that a number know some American Sign Language and International Sign, possibly through contact with foreign researchers, tourists, travel, and/or the watching of online videos made by signers from other countries.
Tourism in Bengkala
The everyday activities of the villagers have become commoditized as the village became more widely known as a tourist destination. Bloggers, film crews and photographers have traveled to Bengkala to film and photograph deaf people digging graves, deaf dancers, and village residents signing to each other on the street. Many villagers recognize the exceptionalism attributed to Bengkala as an opportunity to benefit from the tourism industry in Bali.
Some special roles are assigned to deaf men in Bengkala, such as the fitting and repair of waterpipes in the surrounding area, digging graves, and acting as security during village festivals because of their reputed strength and fearlessness. Some villagers claim that deaf people are invincible to the evil spirits that haunt the graveyard because they cannot hear the spirits. The villagers also say that deaf people are strong, therefore, better suited to manual labour and security.
Other work assigned to deaf people includes catching and butchering of animals for feasts and celebrations; and carrying the wadah, a tall pyramidal wooden structure full of ornamental decorations in which a dead person is placed for cremation, to the cemetery (Marsaja 2008). Digging graves is a task exclusively assigned to deaf men. This is not common in other villages in north Bali, as the digging of graves is typically done by close family members of the deceased (Marsaja 2008). These narratives have filtered through the media and are known to some deaf tourists who see this exceptionalism as positive.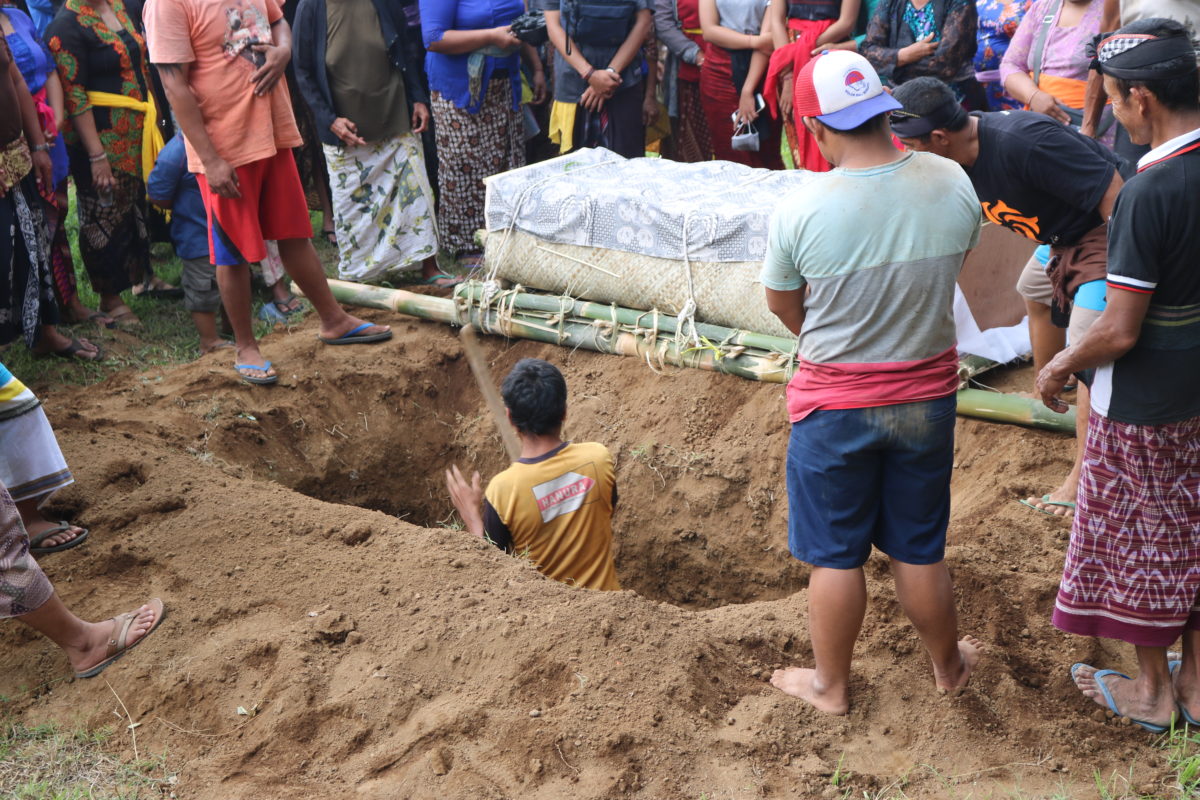 For deaf visitors to Bengkala, the touristic experience most often involves interaction with deaf villagers in sign language at their homes but there are also areas of the village built specifically for tourism. To accommodate tourists, the village developed specific public spaces for tourism, such as a small 'cultural center' with activities, such as dance performances. Outside the center of the village, in a grove of trees, an open-air structure was built with support from Pertamina, an Indonesian state-owned oil and natural gas corporation based in Jakarta, and the local government.
The Pertamina corporate logo decorates the sign at the entrance to this area. The pavilion has a glass display case with stacks of woven cloth for sale to tourists, as well as a visitors' log book. In a building behind the pavilion, four weaving looms stand, emblazoned with stickers with the blue, green and red Pertamina logo. The weaving hut is a part of a development project to provide livelihoods for deaf women in Bengkala. The pavilion has a television set and when performances are scheduled for tourists or film crews, deaf men lean against the columns and watch television as they wait to perform.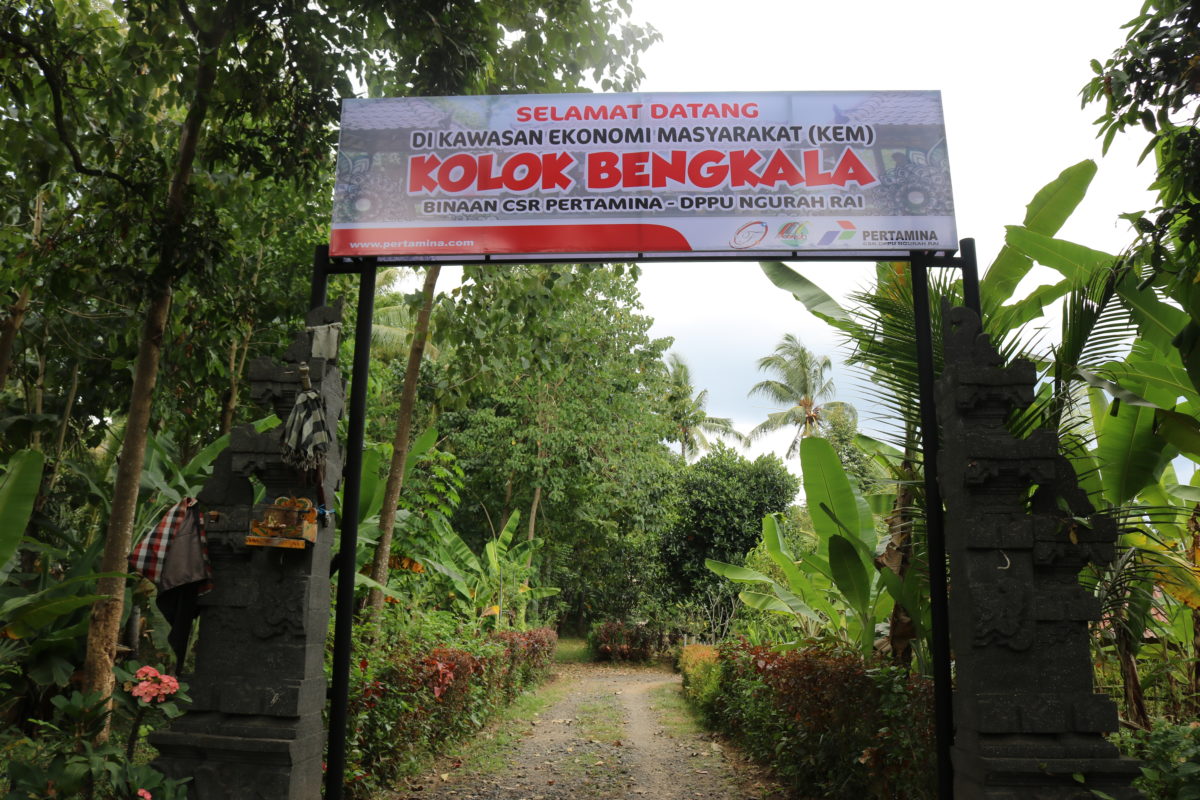 Tourists in Bengkala
There are several types of tourists, with different motivations, who visit Bengkala. These tourists include deaf and hearing, domestic (Indonesian) and foreign visitors. The deaf tourists arrive in Bengkala in various ways: some take a day trip to Bengkala as a part of their overall Bali touristic experience; others come as a part of a deaf pilgrimage of sorts, with a deaf guide; yet others arrive with a random hearing driver, having read about the village on the internet. Tourists come in pairs, solo, or as a group. Most arrive in Bengkala with a deaf Indonesian guide from south Bali. As of 2018, a day trip to Bengkala with the Bali Deaf Guide cost IDR 1,200,000, approximately 100 USD, for a group of 1 to 4 people. In the clip from my forthcoming ethnographic film, you will see how the deaf village is talked about by a group of deaf tourists from the Netherlands and how their perspective changed after visiting Bengkala as a part of their day trip to north Bali.
Generally, the deaf tourists who visit Bengkala can be categorized as day trippers; people who stay in hotels in the south of the island who travel to the village for a few hours or an overnight stay. Other tourists stay in Bengkala for weeks or months. These tourists seek similar experiences of visiting an authentic deaf village and "seeing how they live." Overnighters stay with the deaf families in the village and experience local amenities, such as a lack of air conditioning, the use of communal kitchens where food is cooked over fire, and toilets/showers outside of the house. By contrast, day trippers experience a 'snapshot' of village life while on an excursion from the south. They come to the village to visit some of the deaf families at their homes, sit and chat for an hour or two, then leave for the next stop on their itinerary, most often Gitgit Waterfall, a popular site in a tour of north Bali, and/or Lovina beach.
Seeing how they live, and helping
An important impetus for these tourists is the desire to interact with deaf villagers as a part of their tourism experience in Bali (see video below). The desire to make social connections with 'local' deaf people is a way of experiencing authenticity by accessing local deaf experiences, and 'seeing how they live.'
The reality of Bengkala clashes with the tourists' actual experience. As Bengkala is typically one of several stops on a day tour of north Bali, the group is driven directly to the entrance of a deaf family's compound and do not see much of the village itself. Some tourists leave disenchanted by their experience; however, others return to Bengkala again and again. Some of these repeat visitors explained to me in interviews that they consider the deaf villagers as their family and that they are inspired by them. Other tourists return because they have formed friendships with some of the younger villagers and want to support their education and ambitions in life.
A moral imperative to 'help' the deaf villagers, based on a sense of deaf similitude, is often an important element of the deaf tourist experience (Moriarty Harrelson 2015). While I was in the village, a deaf woman from Australia treated a group of teenagers to dinner and boat ride in nearby Lovina Beach, known for its black sand beaches and dolphins. This emerges from a desire to help, or to 'do something' as many of the deaf villagers are among the poorest in the village because of their historical lack of access to education and limited employment (de Vos 2012).
Deaf tourism: It's complicated!
Deaf tourist imaginaries of Bengkala as an isolated deaf utopia erase the complexity of social relations in the village, such as inequalities between deaf and hearing people in terms of access to education and employment opportunities. Bengkala is not isolated; it is embedded in long-standing historical and geographical networks with nearby villages that also have deaf villagers, as well as the tourism industry in the south of Bali, and international networks. For example, some villagers have migrated to Australia, the Netherlands, and other parts of Bali for work and/or marriage.
Many people in Bengkala gain social and material capital through their contact with a global deaf network. They have some access to material resources, such as financial support for schooling, home improvements, and other activities that they could not have afforded on their own. It would be simplistic to consider tourism in Bengkala solely as a destructive force. What is at issue here is the dynamic process through which the villagers make use of tourism, and who actually benefits from tourism in Bengkala and in what ways. It is important to engage in a deeper consideration of the desires, motivations, and practices of deaf tourism; in other words, turn the tourist gaze onto the tourists themselves.
References
Alesevich, Matt. 2015. In Bali's Deaf Village, Everyone Speaks Sign Language. Retrieved April 30, 2019 https://www.vice.com/en_uk/article/8gkjag/theres-a-village-in-bali-where-everyone-knows-sign-language-511
Branson, J., D. Miller & I.G. Marsaja. 1999. Sign Languages as a Natural Part of The Linguistic Mosaic: The Impact of Deaf People on Discourse Forms in North Bali, Indonesia. In Sociolinguistics in Deaf Communities, edited by Ceil Lucas, pp. 109– 148. Washington, DC: Gallaudet University Press.
Breivik, J.-K. 2005. Deaf Identities in the Making: Local Lives, Transnational Connections. Washington, DC: Gallaudet University Press.
de Vos, Connie. 2012. Sign-Spatiality in Kata Kolok: How a village sign language inscribes its signing space. (PhD diss). Max Planck Institute for Psycholinguistics, Nijmegen.
Kortschak, I. 2010 Where Everyone Speaks Deaf Talk. Invisible People: Poverty and Empowerment in Indonesia, 76–89. Jakarta: PNPM Mandiri.
Kusters, Annelies. 2009. Deaf Utopias? Reviewing the Sociocultural Literature on the World's "Martha's Vineyard Situations. The Journal of Deaf Studies and Deaf Education 15(1):3–16.
— 2014. Deaf Gain and Shared Signing Communities. In Deaf Gain: Raising the Stakes for Human Diversity, edited by H-D. L. Bauman, & J. J. Murray, pp. 285-305. Minnesota: University of Minnesota Press.
Marsaja, I. Gede. 2008. Desa Kolok-A Deaf Village and its Sign Language in Bali, Indonesia. Nijmegen: Ishara Press
Moriarty Harrelson, Erin. 2015. SAME-SAME but Different: Tourism and the Deaf Global Circuit in Cambodia. In It's a Small World: International Deaf Spaces and Encounters, edited by Michele Friedner and Annelies Kusters, pp. 199-211. Washington, DC: Gallaudet University Press.
Salazar, Noel B. 2010. Envisioning Eden: Mobilizing imaginaries in tourism and beyond. Oxford: Berghahn.